Super Bowl MVP Tom Brady obviously loves his football, but he loves a good meal even more, as we discovered when the Patriots QB huddled up with writer to talk about his favorite places in Boston.
Quarterback Tom Brady and his fellow Patriots own Boston.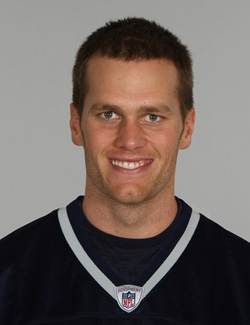 After winning two of the last three Super Bowls, the New England Patriots are the pride of sports-mad and championship-starved Beantown. The Bruins haven't won a title for more than 30 years. The Celtics haven't been the same since Larry Bird. And while hope springs eternal for the beloved Red Sox … well, never mind.
Sporting two championship rings and a winning personality has a way of getting you the proverbial keys to the city – even for a former California dude. The still-single Brady was born in 1977 in the Bay Area, but this amiable, down-to-earth, all-around cool guy has taken to New England in a big way. And vice versa. Of course, it helps that he comes from an Irish-American family that loves sports and leisure activities – all the better to live in New England.
It also helps that the 26-year-old quarter­back loves exploring Boston's myriad attractions, restaurants, bars, and otherwise happening places. Brady, who says he could talk food all day (and just about does), gets jazzed about sampling all sorts of different fare in addition to golf courses, city hot spots, and coastal hideaways.
Heading into his fifth season, Brady says the Patriots' goal is to take home the title again, and that while he has an "insatiable thirst" to win, he's totally into the journey of just getting to sports nirvana. He enthusiastically takes up that sense of exploration to give us a tour of Beantown.
American Way: You have a highly structured life during football season. How do you start your day in the off-season?
Tom Brady: I sleep in and enjoy the morning. I live south of Boston in Quincy, near a bay where lots of people house their boats in summertime. I love waking up near the water. There's a great waterfront scene down there with some terrific restaurants. There's a path near my place and I love walking along the water. Other mornings, I drive up to New Hampshire. So many places are close. Providence is only 45 miles away. Cape Cod is 45 minutes from me – there are some great bed-and-breakfasts to check out for a long weekend. And Nantucket and Martha's Vineyard are just a short boat ride away.
American Way: What other activities do you like to do in the morning?
Brady: I practice yoga at Baptiste Power Yoga, which has studios around town. It's great for flexibility, it's therapeutic, and great for your attitude. And it gets you some silence during your day. During the season, I use videotapes and do it on my own. A lot of my teammates have tried it. When you get to this elite physical level, everyone's trying something – acupuncture, chiropractic, massage, whatever. Also, two of my sisters live close and they're really competitive, so they always try to drag me down to The Sports Club/LA, where we play some one-on-one basketball. I was brought up in a very competitive family.
American Way: We know golf is one of your hobbies. What's your handicap and where do you like to play around town?
Brady: I'm probably about a 7-handicap. I've been playing since I was two, when my dad took me out, and like most people, I'd like to play more. During the season, I'll play on an off day, or we might sneak out for a day on our bye week. But mostly, it's in the off-season. If we have all day, my buddies and I will travel down to the Cape, where Sandwich Hollows, Waverly Oaks, and Willowbend [the latter is a private course] are my three favorites. The setting is very serene, yet you kind of get a little of everything – some water, some trees, a little bit of sand, some challenging courses. It's a great getaway.
American Way: Where do you like to play in the city?
Brady: Closer to me, the TPC, designed by Arnold Palmer, is a fun new course. They've already played a PGA tournament there. It's challenging, with some nice length and a solid layout. And it will get better as it matures. It also has a bit of land, so when you're on the 9th hole, you're not falling on top of another hole. Brookline, probably four miles outside the city, is one of the more popular courses. It has so much tradition to it, with so many stories.
American Way: When you're done playing 18 holes, where do you go to chow down with the fellas?
Brady: There are great pizza places all over the city, but there's a very good one, Omega Pizza, over by Gillette Stadium. Everything I've ever had there, I love. The East Coast has a lot of these small pizza places that specialize in "grinders" or hoagies, along with stuff like chicken tenders and fries. When you hang with a bunch of 300-pound linemen, you tend to find the places that are the greasiest and serve the most food.
There's another place nearby called Fresh Catch, a great seafood spot. Another one the guys know is Kelly's Roast Beef. They make the best roast beef sandwiches. Those are some places where the big boys want to go eat. There's also a great lunch spot, Fat Belly Deli, near my place. They put so much meat on the sandwiches. They've got a great little menu, too. The steak and lamb tips are out of this world.
American Way: Do you get recognized every­where you go in Boston?
Bra­dy: I used to walk around pretty anonymously after our first Super Bowl win. Now it's definitely tougher.