Forty-five years later, the Hulk is still our favorite green giant. By Bryan Reesman
"Don't make me angry. You wouldn't like me when I'm angry."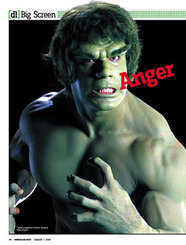 With that thinly veiled threat on The Incredible Hulk, the late Bill Bixby delivered a culturally resonant statement echoing the frustrations of anyone who's ever been provoked or persecuted by someone or something. Many of us wish that we had our own personal demon to launch upon the world when it comes down on us. Growing up, I was a scrawny kid, and I always thought it would be great to teach local bullies a lesson by transforming into a giant green creature that would scare the bejesus out of them and toss them a mile away.
The Hulk represents our inner id, a wild and unfettered being that can smash and crash through everything, the side of us that seeks to use fists and feet when we decide to cease being rational. And in his various incarnations over the years — from comic books to animation to live action — he has provided plenty of vicarious mayhem for his legion of devoted fans.
The original story, unleashed in 1962 by Marvel Comics guru Stan Lee and legendary comic artist Jack Kirby, was simple: The brilliant Dr. Bruce Banner developed a powerful gamma bomb. Just prior to a trial detonation, teenager Rick Jones recklessly drove out on the test field as part of a dare. Banner ran out and tossed him into a trench but could not join him before the bomb exploded; thus Banner absorbed a massive dose of gamma rays that later transformed him into the rampaging Hulk. Despite his lesser intelligence, the Hulk's superhuman strength and size allowed him to soar high into the air, hurtle through buildings, and tear asunder everything from lab machines to missiles.
Lee and Kirby's stories were straightforward. Initially transforming only at night, but later also when experiencing rage or anxiety, Banner worked to conceal his dual nature, while Ross, Talbot, and the armed forces, not to mention a plethora of nemeses, including the gamma-ray-altered Wendigo and the Leader, hounded the Hulk relentlessly. Over the years, the less-than-jolly giant went through numerous incarnations: He was originally gray, and then green, which remained his dominant color. His personas ranged from his savage side to one where his body and Banner's intelligence were merged. He occasionally joined superhero teams such as the Avengers, the Defenders, and the Pantheon, and he embarked on all manner of adventures — terrestrial, intergalactic, and even subatomic. One thing that stayed the same is that he always had the ability to speak, referring to himself in the third person ("Hulk smash!"), unlike his solely growling television-and-movie self.
The live-action television show developed by Kenneth Johnson in the late '70s abandoned most of the comic-book ideas and characters, undoubtedly for budgetary reasons but also to make the concept more appealing to a mainstream audience. Bruce Banner became David Banner, a scientist who felt guilt over being unable to rescue his wife from a fiery car wreck and thus delved into exploring the hidden strengths many of us tap into during times of great stress. An accidental but self-administered overexposure to gamma radiation created his mean, green Mr. Hyde persona, which emerged during times of anger or great stress. Banner and his colleague Dr. Elaina Marks tried to contain "the raging spirit within him," but her accidental death in a massive lab explosion and the mistaken belief that he had also died, along with the mistaken assumption that both deaths had occurred at the hands of the Hulk, put the good doctor on the run.
From there, the series developed a formula: Banner drifted from town to town, using a different surname each time, befriending people who hired him and then becoming entangled in their lives, which usually involved the intrusion of a criminal element that was eventually rectified by the Hulk. His alter ego was now pursued by tabloid reporter Jack McGee.
Johnson's television series was radically different from its printed origins, but it still worked because of Bill Bixby's intelligent, sensitive portrayal of Banner and because of Lou Ferrigno's impressive physique and ability to generate sympathy for the creature. The Incredible Hulk won an acting Emmy for the tragic season-two opener "Married," one of the only instances in which David Banner found happiness on the series. The show also had a sense of humor, like in "Terror in Times Square," when a mobster intimidating Banner warns him, with unintentional irony, "You really don't want to make me angry, and I really don't want to make you angry." The three fun but goofy television movies that came after the four-year series was canceled brought us the first screen representations of Marvel heroes Thor (Return of the Incredible Hulk) and Daredevil (Trial of the Incredible Hulk) and portrayed the end of our green hero (Death of the Incredible Hulk). (Cool trivia footnote: The show's opening title narrator was Ted Cassidy, a.k.a. Lurch, from The Addams Family.)
An essential element to the series' success was Joseph Harnell's impressive, multifaceted score. It spanned everything from ominous orchestral sounds for the Hulk to the signature melancholy piano piece for Banner ("The Lonely Man"), which emphasized his isolation and alienation. As the closing theme for a superhero-based show, it was highly unorthodox and eternally memorable.
For my money, The Incredible Hulk series is still fun, and its gradual re-release on DVD will allow a new generation of fans to discover its guilty pleasures. (The Incredible Hulk: The Complete Second Season was released in July through Universal Home Video.) At the very least, it's cool to imagine yourself being able to transform into a fearsome beast when those who provoke, anger, or prey on you just happen to press your buttons on the wrong day. Perhaps at the end of the day we're just like the Hulk — we want a little respect.