Kate Beckinsale lives in Los Angeles now, where she makes movies like the recently released Click. But she can never resist the urge to go back to London. Photograph by James White.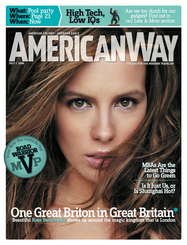 She was attending Oxford University, studying Russian and French, but Kate Beckinsale was always going to be an actress. Her parents were both actors. Her father, the late Richard Beckinsale, was a comic; her mother,­ Judy Loe, is a stage and television actress. Beckinsale had grown up around actors – her godparents were actors – and she never doubted that she, too, would join the family trade. But she went to Oxford anyway. "I was going to probably spend a lot of time around actors for the rest of my life, and I thought that going to university would be interesting, to be around people who were passionate about other things like, you know, biophysics or that sort of thing," she says. ¶ In 1993, after some early work on stage and television, she got a call from Kenneth Branagh, who would cast her in her first major film, Much Ado about Nothing. So she was off to London and her preordained destiny as an actress. After breakthrough roles in Pearl Harbor, Underworld, and as Ava Gardner opposite Leonardo DiCaprio's Howard Hughes in The Aviator, Beckinsale is a star. She lives in Los Angeles with her husband, Len Wiseman, who directed her in Underworld and its sequel, Underworld: Evolution, and her daughter, Lily Mo. Her most recent role, in Click, is as the beautiful wife of an architect (played by Adam Sandler) who discovers a television remote control that allows him to run the universe. But when London calls Beckinsale back to her roots – and it calls frequently – here's where the city sends her.
Tell me about your background in London.
I grew up in West London and went to school in Hammersmith, which is sort of a little garden near Kensington. I took the subway every day and went to school, and that's pretty much where I grew up. I'm completely a fish out of water in L.A. I don't really know how to handle the fact that it's sunny all the time. And I can't drive. The taxis in England are like commanders. They know where everything is. They have to pass a test. They take up to four years to study every single street and restaurant and everything in London. And you can just sort of hurl yourself drunkenly in the back of a cab and say the address, and you don't even have to know where it is, but they all know. So that was a bit of a culture shock going to L.A. Because the cab drivers don't know where anything is at all.
Where do you go immediately upon returning to London?
I tend to go straight to my mother's house. She still lives in Chiswick, where I lived. I guess you'd say it's a suburb, but it's got lots going on. Every kind of restaurant and bar and, you know, you can get a really good blowout there if you want to …
A blowout?
You know, you get your hair blow-dried. And Chiswick also has an extraordinary chocolate shop. There's this guy who sits there and makes chocolates in his own tiny little shop. They're like narcotic-based mounds of chocolate. It's called Theobroma Cacao. It's on Turnham Green Terrace. He's just this one guy, and he makes killer hot chocolate out of actual chocolate in this little sack of broken-up chocolate. It's not a powder or anything like that. But it's evil. And my daughter goes in there and her eyes cross. I mean, my eyes cross, too, I have to say. She's only six, so she just inhales the smell.
Where's a favorite place in London?
One of my favorite things about London is Marks & Spencer. It's a chain of stores you can really find anywhere in London. And they have the best food. So if you happen to be a lousy cook, you can walk in there and buy amazing food that you throw in the oven or throw in the microwave. The produce is amazing, and, you know, all the beans have been kind of trimmed. And it also happens to, bizarrely, sell really great underwear. One of my favorite underwear shops in London is Agent Provocateur, which I think you have here in the U.S., and which is extremely risqué and very sexy. Marks & Spencer is a bit more serviceable. It's more for every day. I think I've probably got underwear that I bought at Marks & Spencer when I was a teenager that is still pretty. You can wash it a lot.
Tell me about your first journey to London from Chiswick. You've been going there all your life, right?
I was very lucky in that I was able to grow up there and go and see plays in the West End. Plus, you can jump on a train and go to Paris if you want. But we lived in West London. There was a theater called the Orange Tree Theater, a tiny little theater. It has been redone. It's a little bit bigger now. But when I was small, they did lots of really great new writing, new plays, and they had an extremely intelligent and creative director. Your knees are almost touching the actors; it was so tiny in there. But when I was about 14, or maybe 13, they made a youth theater, and that's really where I first went and had an acting class. So it's always nice to see it. It's on such a tiny scale, and it's usually really well done.
What are your favorite public landmarks?
I love the Natural History Museum. There's nothing quite like it. It was all black and destroyed, but they cleaned it up, and it's just the most beautiful building. And you know, having a small child, you can take her in and see gigantic dinosaurs and press little buttons. They had the party for the Harry Potter premiere there, the last movie, which I was bribed into taking my daughter to. And it was just absolutely magical what they did. They just made it like this kind of ice palace inside, but you know, you're walking around past these gigantic skeletons of dinosaurs. It was amazing. I mean, it was really the most beautiful thing.
What's your favorite time of year in the city?
I always go back for Christmas. I made my husband go to Harrods a couple of times with me just because it's such an experience. We're always fighting over it. He's American. He calls it a mall. And it's not a mall! It's a massive department store. It's an entire block. It's renowned for being incredibly fancy, and you can buy jewel-encrusted cell phones and God knows what. It has an amazing food hall. It has an ice-cream parlor where you sit on little stools. You can pretty much get anything there. I mean, I'm sure you could buy a small working Ferrari for a two-year-old or really nice Christmas cards as well. You don't have to be a visiting oil baron or anything. But they don't let you in if you have holes in your jeans. Yeah, they have a dress code [in] the store, which I always find hilarious. I remember there being some big scandal over some visiting rock star. I cannot remember who it was, who was turned away because of ripped jeans sometime in the '90s.
Where would you go if you wanted to wear your ripped jeans?
Farther out even than where my mother lives, there is a big park called Kew Gardens. It's a lovely, organized, beautiful botanical gardens, and also there is this old tea shop, the Maids of Honour, which has been around since Henry VIII. It's tiny. In fact, I got locked in the bathroom there when I was three, and they had to take the door off to get me out. So it's a slight zone of terror for me still. I even think that one of the older ladies who helped get me rescued is actually still working there. It's basically cakes and pastries and stuff that's baked. It's the kind of place you would always take a visiting American, because it's incredibly quaint. There's an alluring fire in the grate and the whole thing. They make this one particular pastry called the Maid of Honour. It's a very fluffy pastry with a sort of baked-egg-­custard thing in the middle, which sounds disgusting, but it was apparently Henry VIII's favorite dessert, and they are still making it. It's a secret recipe. I don't know what they put in it, but you tend to have to eat 12 of them.
Is Oxford worth visiting?
Oh, it's amazing. I love going there. You can get the Oxford Tube, which is basically a bus that picks you up from Kensington or somewhere, and it takes 45 minutes to get back and forth to Oxford. I used to do it a lot. I took my husband last time we were there, and it's just so old. And all of the colleges are so beautiful. My college was built in the thirteenth century, and obviously my husband had never seen anything that was that old. And the grounds are beautiful. You can really get the whole sense of, I don't know, Thomas Hardy and people with passions. They call it, you know, the dreaming spires. Obviously, there's a Starbucks, and there's a McDonald's, and it's all kind of lumped together with these incredible old buildings that have porters, and they are all wearing bowler hats and long coats and are usually incredibly nice. My God, what interesting things are going on behind these walls? My husband arrived in Oxford and went, "My God, they should make a movie here!" I thought I was going to hit him with my handbag. They've made like 10 million movies there. I think parts of the Harry Potter films were made at Oxford. So, you know, my daughter is pressuring me to take her there.
What are the must-sees at Oxford?
The Bodleian Library is the main huge library. When you join, you have to do this swearing-in ceremony. It's all incredibly archaic and traditional, and there is some part of the oath that involves promising you won't bring your sheep into the library. I guess the vows were written so long ago, it must have been appropriate at some point. And that you won't kindle any flame therein.­ Very old-fashioned. I loved my college. It was New College, which is not very new, being thirteenth-century. And Christ Church is one of the wealthiest colleges. That's kind of like walking into an extraordinary sort of palatial castle. Sort of deeply intimidating, really. Very spectacular.
Okay, back to London. Any hotels you favor?
Yeah, I like the Sanderson Hotel. They have a sofa shaped like a pair of big red lips and hanging plastic globes that you can sit in. My daughter loves it. Sometimes they have a big box of candy canes sitting on the counter.­ I don't think it's designed to be incredibly child-friendly, but my child thinks it's fabulous. And they've got a little gift shop that has just amazing jewelry and underwear and interesting little offbeat designer pieces.
Let's say you had a free Saturday. Where are some good places to eat?
There's a little café in Chiswick called the Bedlington Café. We call it a greasy spoon. You can get a really good fried English breakfast there. But it happens to be a really good Thai restaurant at night. It's like a weird mix. So you can have fried eggs and bacon and a cup of tea and all that stuff in the daytime. But then, you can also have really delicate, amazing Thai food in the evening. Then where would I go for lunch? Probably the Ivy. I think it was the first truly fancy restaurant I ever went to. And they are very discreet. You know, you can always see other interesting people there. The food is amazing. I always eat the same thing. I've only tried one thing on the menu – a tuna with little tiny lentils, and it's delicious. I liked it so much I don't want anything else. Then they have various desserts, which come with sort of their own little jugs of caramel sauce and chocolate sauce; I'm a big sucker for things like that. You always run into someone incredible in the ladies' toilet. You might run into a Spice Girl or some fantastic feminist writer. It's not intimidating in the sense that, you know, it gets a bunch of interesting-enough people who tend to look reasonably scruffy. I don't like restaurants where you walk in and you feel you should have had hair and makeup done before you went in.
London's the ultimate shopping city. What are your staples?
Well, I like Smythson stationery, where they do leather-bound stationery and incredible things. Where else? I like Selfridges, which is another big department store – what my husband would call a mall. There's a shop called Rellik, which is a vintage-clothing store on Golborne Road. It was set up by three Portobello market store holders, and it sells vintage Dior and Vivienne Westwood, Ossie Clark, and amazing old vintage jewelry. It is a really cool store.
Um, what else? There's a ribbon store on Marylebone High Street, called VV Rouleaux, which is literally just any different kind of ribbon or braiding, and it's amazing. There's a kid's shop on Columbia Road that is only open six hours a week, and it coincides with the Columbia Road Flower Market. It's called Bob and Blossom. They do great little tiny onesies with, you know, things written on them and little matching hats and stuff. And they're pretty cool. I love the bookstores in England. For some reason, I can find my way around the bookstores really easily. So there's a sort of chain of bookstores like Waterstone's. That's pretty much everywhere. But then there's Ian Shipley books on Charing Cross Road, which has old books and new books and out-of-print ones. And Portobello market is a big favorite.
How else would you spend a perfect Saturday afternoon?
I might go to the Sanctuary, which is a women-only spa in Covent Garden. I mean, I might not anymore. It's probably less fun being well known going there because you can walk around completely naked inside, and everyone does. It's actually a little embarrassing if someone is wearing a swimsuit. You stare more. It's a very nice spa. You can get amazing massages and facials and treatments.
Okay, so outline the perfect Saturday night.
There is a little place called Ffiona's, and it's on Kensington Church Street. It's tiny and it's run by this very formidable woman,­ Ffiona, who has a gigantic personality. All the tables are sort of scrubbed wooden tables, and the food changes every day. And none of the plates match. It's a very sweet little sort of personal restaurant. It's ­English-based, so you can get various sorts of old-fashioned dishes. They have this thing called colcannon, which is like a mix of cabbage and mashed potatoes or something. But it's really good. And then various English desserts – sticky toffee pudding and apple crumble and custard and all of that stuff. Then I would probably go to the theater or to a movie. I love that when you get to London, you can go to the national theaters and kind of see what's going on there, and there is usually a great new play and a revival of something really interesting. I would probably haul myself down there and go check it out.
Any live music places you like?
I haven't been for a really long time. We used to go to the Mean Fiddler or the Town and Country [now the Forum], but I think I ended up going to see Curtis Mayfield at the Town and Country Club. The Mean Fiddler is quite a small venue, and they get really great, interesting bands. Town and Country gets bigger bands.
Is there a bar or pub that you like to go to?
I'm like the only English person who's not a big drinker. I prefer to eat. There's an Indian restaurant that I always have to go to in Shepherd's Bush, which is not high-end at all. It just happens to be the most delicious food. It's called the Ajanta. In fact, that was the thing that ended up getting my baby born.
My baby was 10 days late, and everybody said, "Oh, you know, you've got to drink raspberry-leaf tea and jump up and down" and all of that stuff. And then the other thing they tell you to do is to eat a curry. By that point – because, you know, 10 days late is a lot of extra pregnant – I was enormous. And I actually suddenly developed a massive craving for curry, which was handy, so I said, "Oh, let's go." So [my mom and I] went zooming over there. Once I'd thought of the curry, I had to have it immediately, so I was probably drooling and groaning. You can eat it there, or you can pick it up and take it home, which is what we did. I probably ate most of it in the car. I really needed to kind of fall on it like a tiger. So we had that, and then I went to bed and woke up several hours later in labor and had a baby. I might still be pregnant if I hadn't gone there.